Ingredients
250g butter, softened
3/4 cups caster sugar
2 teaspoons vanilla extract
1 egg yolk
2 1/4 cups plain flour, sifted
1 265g bag Allens Lollipops (35 in bag) *NB these have paper sticks that will not melt
Method
Preheat oven to 180 degrees celsius.
Beat butter and sugar until pale and creamy.
Add the vanilla and egg yolk and beat well to combine.
Add the flour and beat until a smooth dough forms.
Divide the dough in half.
Remove the wrappers off half the lollipops (this will save you working frantically later on).
Roll the first half of the dough out between 2 sheets of non-stick baking paper to 5mm thick.
Using a 5cm round cookie cutter (a glass will do), cut rounds from the dough.
Place cookies on a baking tray lined with baking paper and place in the middle of the oven. Cook for approximately 8-9 minutes and remove from oven before the dough starts turn golden.
Working quickly press a lollipop onto the middle of each cookie. Press firmly but not with too much force as you may split the soft dough.
Cook for a further 2-3 minutes. This will be enough time to turn light golden before the lollipop will start to melt.
Stand on tray for a few minutes then using an egg flipper remove to cool on wire racks.
Repeat with the second half of the dough.
* This recipe has been adapted from Donna Hay Kids Magazine Annual 2011 pg120. Putting the lollipops in just before the cookie is golden ensures the lollipops don't melt all over the place.... I discovered this following the original method. The original recipe also calls for a 8cm cookie cutter, but I find this is too big for children.
* Hide these from your children because they are very delish!
Have Donna Hay recipes ever made you
want to pierce your eye with a skewer?
Linking up with dear Anne from Domesblissity
for
Thriving on Thursdays
!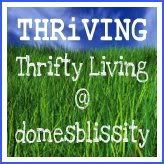 Thanks for the nudge luvvie! xx